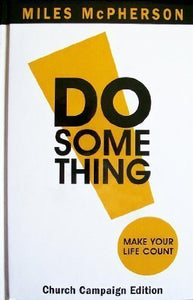 Do Something Church Campaign Edition - Miles McPherson
Everyone wants their life to count. We all wish we could make a difference in a hurting world. The good news is that we can. Despite our own brokenness (and, in fact, because of it) each of us can be Jesus's hands and feet on Earth, reaching out to others in real and profound ways.
With powerful true stories, illustrations from the life of Christ, and specific activities for readers to engage, 
DO Something!
is a hopeful and practical book that shows how to live out faith in a way that improves people's lives. With transparency and humility, Miles McPherson shares his own shortcomings as a young pastor trying to connect with people in need. Stressing the importance of hurting with people before you can do something for them, McPherson takes readers through the 5 P's of making their lives count: preparation, purpose, pain, power, and passion. By putting into practice the principles found in this book, readers will experience spiritual fulfillment as they see that they can make a real difference in the lives of those around them.