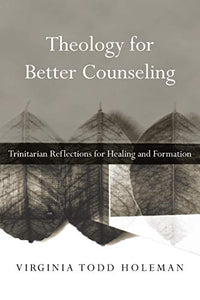 Theology for Better Counseling: Trinitarian Reflections for Healing and Formation (Christian Association for Psychological Studies Books) Paperback – Virginia Todd Holeman
At one time, Virginia Todd Holeman "Toddy" thought being biblically literate was all she needed and had little interest in what real theologians talked about. But in her counseling she found that clients pressed her for more.

They didn't just want what she had gained through training in the best theories and practices available for counseling. They asked hard theological questions often related to their suffering. As she describes it, they experienced a kind of "theological disequilibrium . . . which left them discouraged, disoriented and often distraught."
Holeman shows how deep and clear theological reflection can make a major difference in counseling practice. Not only can it shape who we are, it can also bring into greater alignment our theological commitments, our therapeutic practices and our professional ethics. All the while it can have the most practical effect on our counseling sessions.
In this volume Holeman guides counseling students, pastoral counselors and licensed mental health professionals into becoming as well-formed theologically as they are trained clinically.