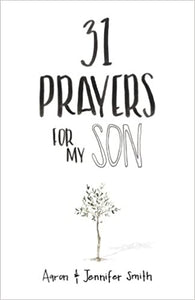 31 Prayers For My Son: Seeking God's Perfect Will For Him - Aaron Smith , Jennifer Smith
Praying For Him
Children are an incredible blessing. Parenthood is a marvelous gift. God created something uniquely special in the bond between a parent and child. As you continue on your journey of parenting, purpose your heart to pray for your son, seeking God's perfect will for his life. This resource is designed to walk you through thirty-one specific prayers for your son. 
This resource will help you...
learn how to pray for your son.
inspire you to pray for his greatest needs.
challenge you to pray for him daily.
encourage you to pray with him.
embrace intimacy with God as you pray to Him.