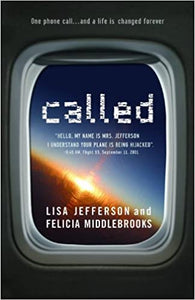 Called: Hello, My Name Is Mrs. Jefferson. I Understand Your Plane Is Being Hijacked. 9:45 Am, Flight 93, September 11, 2001 - Lisa Jefferson
With one ring of the phone, Lisa Jefferson went from being GTE Airfone supervisor, suburban wife, and mother to being the listening ear to a nation shattered by tragedy. 
Called
 tells the gripping account of 9/11 from her vantage point. She recalls the moment she took the call from Todd Beamer on United Airlines Flight 93, and when she heard the immortal words, "Let's Roll." She remembers the way that her life was transformed vividly when she responded to the call. Jefferson sends a stirring challenge to all of us--whether it comes during quiet obscurity or international adversity, we must be prepared to answer God's call.