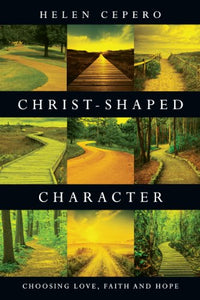 Christ-Shaped Character: Choosing Love, Faith and Hope - Helen Cepero
Honorable Mention for Classic Christian Spirituality, from Byron Borger, Hearts and Minds Bookstore
"Three things will last forever—faith, hope, and love—and the greatest of these is love."
—1 Corinthians 13:13
What are the pathways that lead us to God? This is a book about what happens when we find those pathways. You will discover the values and virtues that grow out of our experiences, and practices that encourage us to be with God in specific ways.
Spiritual director Helen Cepero writes: "Ive seen that when I reflect on my own life experiences, when I am alert to Gods presence, and alive to Christs love, I grow as a Christ follower, and as a human being living in Gods world. This book is an invitation for you not to follow me, but follow Jesus into the stories of your own life. You too, will need to wake up and be willing to walk . . . through your own life."
We will follow the journey to God by beginning with three ways of love, then three ways of continuing in faith and lastly, three ways of living in hope. These nine pathways will lead you more deeply into life with Christ.