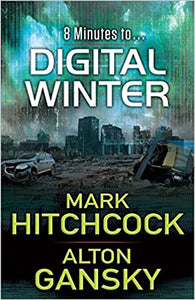 Digital Winter by Mark hitchcock & Alton Gansky
Prophecy expert Mark Hitchcock and award-winning novelist Alton Gansky provide a suspenseful and fast-moving story of life after a massive cyber attack.
Twenty-two-year-old savant Donny Elton can't tie his shoes, but his computer skills are unsurpassed. Egged on by a shadowy figure only he can see and hear, Donny creates an evolving computer virus that knocks out satellites, power grids, and communication systems. The world is thrown back into a lifestyle it hasn't known for a hundred years. Surgeons find themselves operating without electricity. The military can't use its computers...
This gripping story of darkness and heroism highlights prophetic themes and the very real danger of a cyber attack.