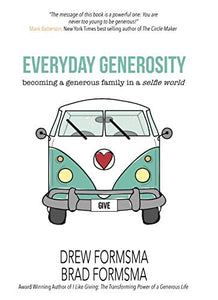 Everyday Generosity: Becoming a Generous Family in a Selfie World
In Everyday Generosity, Drew and Brad take parents and their kids on a fun ride into a whole new lifestyle: the lifestyle of generosity. Providing tangible takeaways to become more others-focused, they teach parents and kids alike simple actions that will make a big impact on families everywhere. Within these pages you will learn about:
How we all have something to give regardless of our age.
Everyday giving experiences that will encourage, inspire, and motivate you to give.
The Ripple Effect- A single decision can change the trajectory of your family... and the world!
Everyday Generosity is a roadmap to the generous life. It's not just about money, but your thoughts, words, time, influence, attention and stuff. Through modeling, encouraging, and engaging your kids in the conversation of generosity, you will create a legacy for generations to come.