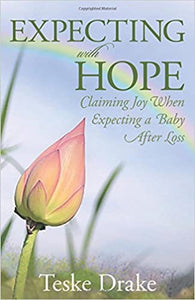 Expecting with Hope by Teske Drake
A compassionate, thoughtful reminder of God's promises for joy and peace after loss
"You will keep in perfect peace those whose minds are steadfast, because they trust in you." -Isaiah 26:3
When 31 percent of pregnancies end in loss, it is no surprise that miscarriage, stillbirth, or infant loss brings great grief, nor is there a shortage of books addressing how to move through and past that sorrow. What is seldom considered, however, is that 85 percent of those women go on to become pregnant again-yet the complexity of emotions triggered by a pregnancy following loss is rarely addressed. With this book, Teske Drake challenges women to claim joy in the midst of grief when newly expecting, and shows them just how to accomplish that.
Centered on biblical promises like the one above, and focused specifically around promises of "peace," this book is a practical guide written by a mother who's been there. Drake acknowledges the torrent of anxiety that replaces the natural joy pregnancy can bring. She avoids painful clichés and works instead to unearth deeper truths. Her tone is gentle, caring, and compassionate, drawing women back to a place of peace and joy, both with God and with their current pregnancy.
This ten-chapter book includes accompanying devotions, "Pregnancy Prayers," personal anecdotes from other mothers who've experienced similar loss, and "Pen the Promise" journaling prompts to encourage personal application of the promises Drake reveals. She constantly drives the reader back to Scripture, sharing not only promises given, but promises fulfilled. Women are offered practical information, as well as encouragement and inspiration. With Expecting with Hope, Drake provides a deeply needed space for expectant mothers to rediscover the joy and peace of pregnancy.