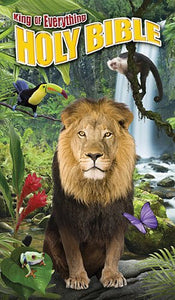 King of Everything Bible
An eye-catching International Children's Bible® for kids who love God and all the amazing animals He created.
Kids are naturally fascinated by the animals that walk the planet with us, and this Bible will encourage that sense of wonder. Featuring a detailed 3D cover and 48 pages of custom inserts with spectacular photography from National Geographic®, thisInternational Children's Bible® will help kids more fully appreciate our amazing God, the Creator of all things great and small.
The full-color features reinforce biblical knowledge and include: Bible Time Line; Bible Verses to Know; Maps; and Dictionary of People, Places, and Things in the Bible. Special articles include The Real King of the Beasts; Animals of the Bible; Amazing Animal Facts; and much more. 
Features & Benefits:
Eye-catching 3D cover and pages of amazing National Geographic® animal photography
Full text of the International Children's Bible® translation―a Bible children can read and understand
Cool articles about God's creations from the animal world
48 pages of full-color inserts with presentation page, maps, and more
Perfect for kids ages 7-11