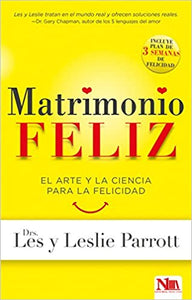 Matrimonio feliz: El arte y la ciencia para la felicidad (Spanish Edition)
El matrimonio no te hace feliz. Tú haces feliz a tu matrimonio. Pero, ¿cómo?
Descubre los seis diales contraintuitivos que debes mover ya mismo en tu relación. Son impulsores, comprobados, de la felicidad. Y, seamos sensatos, saber cómo lograr la felicidad ―esa profunda y perdurable alegría de sentirse bien juntos― no siempre es fácil para las parejas que tienen problemas con el tiempo y el sueño. Incluye un inmensamente útil "Plan para la felicidad de 3 semanas".
Marriage doesn't make you happy. You make your marriage happy. But how?
Discover the six counter-intuitive dials to turn right now in your relationship. these are proven happiness boosters. and let's face it, knowing how to make happiness―the deep and abiding joy of feeling good together―isn't always easy for time-starved and sleep-deprived couples. Includes an immensely practical three-week Happiness Plan.