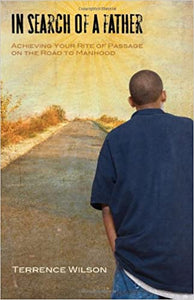 n Search Of A Father Paperback – Terrence Wilson
Father's love. For those whose relationship with their father was less than what they desired, it will foster a desire to continue to work on that relationship. For those who grew up without a father or never even knew their father, it will introduce them toa Father who will never leave them nor forsake them.
Terence Wilson writes with compassion and a depth of understanding that come from his own struggles to become a man in spite of the absence of his father. Those who are suffering from the lack of a father in their lives will find inner healing, hope, and assurance in the teachings and testimony of this book.
Dr. Jamal Harrison Bryant, Senior Pastor of Baltimore's Empowerment Temple writes, "Fatherless families are America's single largest source of crime and poverty. Terence Wilson's resilience and self–motivation are an inspiration to anyone in search of a father. Restoring responsible fatherhood is a criticalpriority achieved by responding to the father heart of God. In Search of a Father is a timely book for a desperate generation."