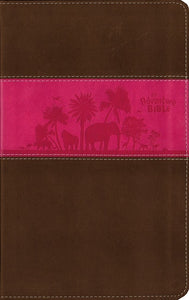 NIV, ADVENTURE BIBLE, IMITATION LEATHER, PINK/BROWN, FULL COLOR
Ready for Adventure? Embark on a fun, exciting journey through God's Word with the NIV Adventure Bible—now in full color throughout! Along the way you'll meet all types of people, see all sorts of places, and learn all kinds of things about the Bible. Most importantly you'll grow closer in your relationship with God.
Features include:
Full color throughout – makes learning about the people, places, and culture of the Bible even more engaging
Life in Bible Times—Articles and illustrations describe what life was like in ancient days
Words to Treasure—Highlights great verses to memorize
Did You Know?—Interesting facts help you understand God's Word and the life of faith
People in Bible Times—Articles offer close-up looks at amazing people of the Bible
Live It!—Hands-on activities help you apply biblical truths to your life
Twenty special pages—Focus on topics such as famous people of the Bible, highlights of the life of Jesus, how to pray, and the love passage for kids, all with a jungle safari theme
Book introductions with useful facts about each book of the Bible
Dictionary/concordance for looking up tricky words
Color map section to help locate places in the Bible
Complete text of the New International Version (NIV) of the Bible
Recommended by more Christian schools and churches than any other Bible for kids!
Reviews
The Adventure Bible NIV and Adventure Bible for Early Readers NIrV are complete Bibles from Zonderkidz, with numerous educational features and illustrations for children.
Both books offer the full text of the Bible (New International Version) along with teaching sidebars such as: "Words to Treasure", "Did You Know?", "Life in Bible Times", "People in Bible Times", and "Live It!". A Subject Index, Dictionary/Concordance, and Maps offer added useful tools.
The Adventure Bible NIV is suggested for 9-12 year olds. Indented thumb tabs and a "How to Use This Bible" introduction will help young readers get started on their exploration of God's word. The Adventure Bible for Early Readers NIrV is the New International Reader's Version with slight modifications in the reading level to accommodate the intended audience of 6-10 year olds.
These handsome hardcover books are brightly illustrated with eye-catching drawings and graphics, and there are so many features to keep children engaged that either book is likely to be thoroughly perused and revisited. However, the pages are quite thin and will require careful handling by eager fingers.
As with any full Bible, in the context of Scripture there is frank mention of drunkenness, nudity, and sex that parents may not expect to see in a children's edition, particularly the NIrV.