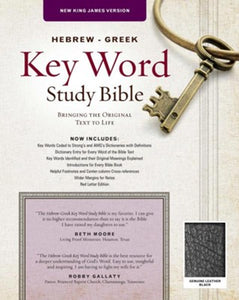 NKJV Hebrew-Greek Key Word Study Bible, Genuine Leather Black
There are times when a Greek or Hebrew word has a distinct meaning that seriously affects the proper interpretation of Scripture. Unless you are familiar with these languages, you will not be able to determine what word in the original text was used or the differences between these words-until now.
The Hebrew-Greek Key Word Study Bible identifies the key words of the original languages and presents clear, precise explanations of their meaning and usage. Those who love God's Word will treasure this Bible, for it contains a whole library of biblical helps within its covers.
The Hebrew-Greek Key Word Study Bible combines essential tools for Hebrew and Greek with translations that accurately and clear. An easy-to-use style plus the benefits of the Strong's Dictionary numbering system makes this study Bible one for every student of God's Word, no matter what age.
The Hebrew-Greek Key Word Study Bible is a complete English Bible text for cross-reference study to the original languages from which the Bible was translated.
Features
Hebrew and Greek word studies
AMG's annotated Strong's dictionaries
Strong's Hebrew & Greek dictionaries combined with additional material taken from AMG's Complete Word Study Dictionaries
Footnotes on the original languages, Bible history, Bible doctrines, and difficult passages
Key Words in the biblical text coded to Strong's numbers
Codes in the New Testament text identify grammatical structure of key Greek words
Notations explain the significance of the grammatical codes
Introduction to each book of the Bible
Table of Weights and Measures
Center-column reference system
Concordance
Words of Jesus in red
Presentation page
Ribbon marker
Gold page edges
Sewn bindings
New Features:
Full text of the New King James Version of the Bible
Wider margins than previous editions
New Word Studies with AMG's Annotated Strong's Dictionaries