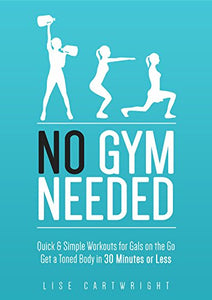 No Gym Needed - Lisa Cartwright
Struggle to maintain a regular exercise schedule? Hate the gym but don't know what other options there are to stay fit and healthy?
Whether you want to fit exercise into a busy schedule, lose weight, or simply feel strong and fit from the outside in, No Gym Needed is the book you need to take you from 'oh-no' to 'whoa hot momma!'
No more visits to the gym… EVER.
Discover the easy workouts that allow you to seize control of your exercise plan and create routines that work around YOUR schedule.This book will arm you with 30-minute (or less) at-home workouts that are easy to fit into any lifestyle.
This book is highly actionable, with step-by-step routines and exercises that show you how to get the body you want without EVER stepping foot inside a gym. You'll get the exact workouts and routines I used, NOT just "exercise daily and drink lots of water." BS.
Avoid those embarrassing gym moments forever.
In No Gym Needed, you have self-confessed gym-hater and international bestselling author Lise Cartwright showing you the ropes. Staying fit and healthy can be boiled down to a few key exercises and movements if approached correctly, and she'll do it for you.
Never feel bored or disinterested again.
Total Body Workouts

 

which use body weight burning exercises to help you achieve a toned body in 30 minutes or less
30-Day Programs

 

that show you exactly what to do and when
Lifestyle Hacks

 

that provide you with more ways to maintain fitness and a healthy lifestyle, no matter what you do on a daily basis
Weight loss the easy way.
Staying fit and healthy doesn't mean you have to spend hours working out. You will be able to get the body you want, whether you're a full-time entrepreneur, stay-at-home mom, career women, college student, or if you simply hate going to the gym.
People will be more drawn to you because you'll be strutting your stuff, swinging your hips —knowing you've finally achieved the body you've always dreamed of. You'll never have to set foot inside a gym again…