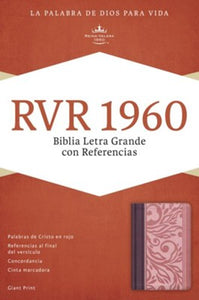 RVR 1960 Biblia Letra Grande con Referencias, borravino y rosado símil piel, RVR 1960 Giant Print Reference Bible, Blush and Wine LeatherTouch
Versión con letra clara y legible. Sus páginas espaciosas ofrecen referencias al final del versículo y la posibilidad de escribir notas y subrayar pasajes con comodidad.
Características
Palabras de Jesús en rojo
8 páginas de presentación/sección de registro familiar
Cinta marcadora
Concordancia de letra grande
Cómo leer toda la Biblia
El plan de salvación
8 mapas a todo color
Resumen de los libros de la Biblia
Referencias al final del versículo
Qué leer cuando…
Caja de regalo
Tamaño del texto: 9-puntos
Clear, readable type on large page format allows ample space for personal notes, Scripture underlining and end-of-verse references without clutter.
Features
Words of Jesus in red
8-page presentation section/family record section
Ribbon marker
Giant-print concordance
How to read the whole Bible
Plan of salvation
8 full-color maps
Survey of Bible books
End-of-verse references
Where to turn when…
Gift box
9-point text size