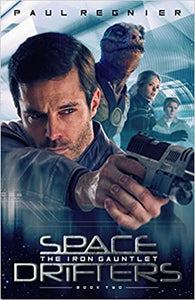 Space Drifters: The Iron Gauntlet
Reality check.
No good-luck charm can help Captain Glint Starcrost out of this no-holds-barred reality show. The Iron Gauntlet pits competitors against four of the most fearsome, fang-filled, alien fighters in the universe.
He's one of the few human challengers ever chosen to contend, but he's not alone.
A fan, a mysterious benefactor, offers Glint and his ragtag team support. The catch? If Glint loses or withdrawals from the competition, it will mean a permanent game over for his crew and the woman he loves.