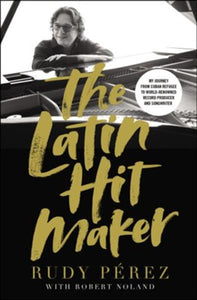 The Latin Hit Maker: My Journey from Cuban Refugee to World-Renowned Record Producer and Songwriter - Rudy Parez, Robert Noland
For the first time, music legend Rudy Perez shares his remarkable journey from a poor refugee kid in Miami to composing the greatest hit songs on the world stage. Named the most successful Latin songwriter in history, Rudy Perez is the creator behind some of the bestselling records of Beyonce, Julio Iglesias, Christina Aguilera, and IL Divo.
In his one-of-a-kind memoir, Rudy tells about his childhood in Cuba and the heart-gripping visits to his father in prison during the height of the communist revolution. Tracing his family's perilous escape on one of the last Freedom Flights to America, Rudy opens up about the years of poverty and growing up in a crime-ridden neighborhood. These memories contrast with tender moments of dancing to the stereo with his siblings, nodding along to his mother's classical favorites, and swaying to blues melodies with his father. At a young age, Rudy tried his hand at recreating the music he loved, and his talent led him to an unprecedented career with over 300 hit songs.
With years of hard work, ceaseless creativity, and a strong faith, Rudy was the first Latin music artist to win Billboard Producer of the Decade. Looking back over his five-time Grammy winning legacy, Rudy shares little-known stories of faith and behind-the-scenes details of working with stars like Fergie, Jaci Velasquez, Michael Bolton, Simon Cowell, and Sam Moore.
A must-read for every music lover, The Latin Hit Maker is a genuine rags-to-riches story filled with inspiration, fascinating details, and a powerful reminder of God's grace and transforming creativity.