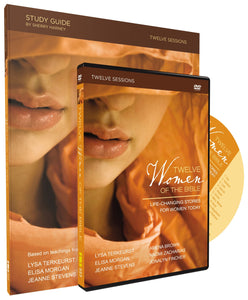 Twelve Women of the Bible Study Guide with DVD: Life-Changing Stories for Women Today - Lysa TerKeurst, Elisa Morgan, Amena Brown, Jonalyn Grace Fincher, Jeanne Stevens, Naomi Zacharias, Sherry Harney
Let's get real!  
Don't you just love authentic people? Aren't you drawn to women who are transparent and real? There is something fresh and wonderful about women who have nothing to hide and who are not ashamed about who they are . . . even the tough parts.   
In this twelve-session small group journey, taught by six acclaimed Bible teachers, you will meet a group of amazing women in the Bible who are absolutely real. At first you might wonder why God captured these particular stories in the Bible. But, as you press on, you will discover that their raw and revealing stories of frailties, struggles, sins and brokenness are a real gift to women today.  
You'll discover lessons from each of these women that will help you persevere through the circumstances you are facing. Learn how to:  
Apply biblical lessons to your own modern-day struggles  
Live through your failures as well as your successes  
Draw near to God in a world filled with trials  
Find lasting contentment in every situation 
Overcome rejection and insecurity  
Their stories are not fairytales, their road was not easy, and their examples are not perfect. They lived in times and places quite different than ours. Yet they hold up a mirror to our souls that can help us better understand our own story. And in doing so, we find freedom to come to God as we are, with total transparency, honest and real.  
Sessions include: 
Eve: Finding Lasting Contentment in the Truth (Lysa TerKeurst) 22 min 
Rebekah: Breaking Free of Feminine Stereotypes (Jonalyn Fincher) 21 min 
Leah: Overcoming Rejection and Insecurity (Naomi Zacharias) 18 min 
Hannah: Surrendering in Waiting (Amena Brown) 15 min 
Abigail: Dealing with Confrontation in Relationships (Elisa Morgan) 20 min 
Gomer: Learning to Accept Unconditional Love (Jeanne Stevens) 20 min 
Mary, Mother of Jesus: Moving from Comfort to Courage (Jeanne Stevens) 17 min 
Mary Magdalene: Transforming from Outcast to Follower (Jonalyn Fincher) 17 min 
Mary of Bethany: Putting Our Faith into Action (Elisa Morgan) 16 min 
Martha: Finding Our Identity in Jesus (Amena Brown) 15 min 
The Woman at the Well: Turning Our Messes into Messages (Lysa TerKuerst) 17 min 
The Syrophoenician Woman: Approaching God with Persistency and Boldness (Naomi Zacharias) 19 min 
This pack contains: 
Twelve Women of the Bible Study Guide 
Twelve Women of the Bible Video Study DVD